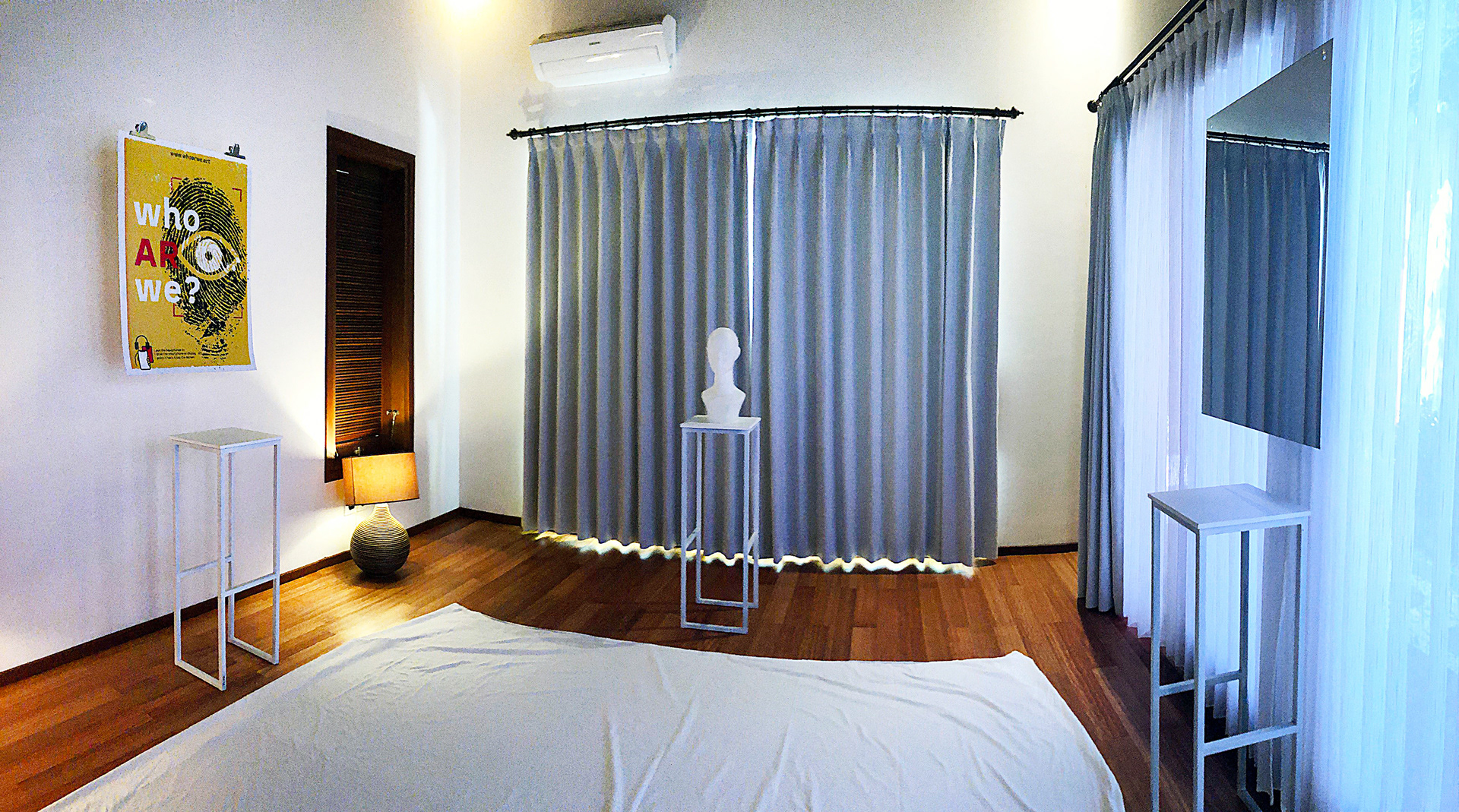 Dataveillance
, an invisible and omnipresent surveillance - qualities that have
been taken to the visual and narrative composition of the artefact -, comprises the transformation of the human behaviour, in a digital environment, into information data.
into information data. And when our digital tracks are brought together, they tell stories about us. From this scenario, questions arise that the artifact brings to light. What do our data say about us? Are we who our digital shadow says we are?
The artefact aims to offer the user a realistic, playful and immersive virtual experience using Augmented Reality (AR) as the main medium of digital art. AR intends to stimulate the interaction with the work in a fun way and build stories in a universe that expands beyond the visible and real, providing dynamic forms of artistic expression and experiencing art.
The user will be confronted by two opposite environments: the physical, characterised by a minimal and silent, empty space; and that of virtual hyper-information, which is discovered by the c
omplement of the AR, in order to illustrate the imperceptibility of cyber surveillance. 
The artefact presents us a confrontation between the observer and the observed, being the observer confronted with his own observation and transformation into data.
who AR we?
is intended to alert the viewer-user to technological developments in digital surveillance, which today has as its main focus the capture of information from individuals for the construction of identity profiles that may lead to new definitions of the human being, fluid and multifaceted. A mutant human being.
A
dataveillance
, ou 

vigilância

 de dados, uma vigilância invisível e omnipresente - qualidades que foram transportad

as
 para a composição

visual e narrativa do artefacto -, compreende a transformação dos comportamentos humanos, em ambiente digital, em dados de informação.
. E quando os nossos rastros digitais são reunidos, eles contam histórias sobre nós. Deste cenário surgem
questionamentos que o artefacto traz à luz. O que dizem os nossos dados sobre nós? Somos quem a nossa sombra digital diz que somos? 
O artefacto pretende oferecer ao utilizador uma experiência virtual realista, lúdica e imersiva com recurso à Realidade Aumentada (RA) como principal média de arte digital. A RA pretende estimular a interacção com a obra de forma divertida e construir histórias num universo que se expande para lá do visível e real, proporcionando formas dinâmicas de expressão artística e de experienciar arte.
O utilizador será confrontado por dois ambientes opostos: o físico, caracterizado por um espaço minimal e silencioso, vazio; e o de hiper-informação virtual, que é descoberto pelo complemento da RA, de forma a ilustrar a imperceptibilidade da vi
gilância cibernética. 
O artefacto apresenta-nos um espaço de confronto entre o observador e o observado, sendo que o observador vê-se confrontado com a sua própria observação e transformação em dados.
who AR we?
pretende alertar o espectador-utilizador para os desenvolvimentos tecnológicos da vigilância digital que tem, hoje, como principal foco a captura de informação dos indivíduos para a construção de perfis de identidade que poderão levar a novas definições de ser humano, fluído e multifacetado. Um ser humano mutante.